If you are considering starting an online store, one of the first challenges you'll face is figuring out the cost of an e-commerce website. Ecommerce website development projects have so many elements and options. As a result, there isn't a one size fits all approach when it comes to costing up a project.
Typically, when you contact a web design agency, they'll first give you a ballpark figure. However, it's usually vague and sometimes quite far from the actual sum you end up paying. Any web designer worth their salt will take you through various questions to drill down into the specific details of your project. They'll do this to ensure that they're able to give you a detailed, more accurate quote.
Think of a project like buying a pizza; you have so many bases and toppings to choose from, different sizes, edges, and so many sauces. You could go crazy with the things you need, or you could keep it quite plain if you're into that. However, without specifying what you need, it's impossible to provide an accurate estimate.
How much does an e-commerce website cost in the UK?
E-commerce websites typically range from £3,000 to £9,000+, which shows how different projects are from each other. As such, you should put a lot of research and discussion into your e-commerce project to ensure that you get an accurate e-commerce website cost.
Here's an example breakdown of the total cost for a business to get a new e-commerce website, including any subscriptions or additional costs: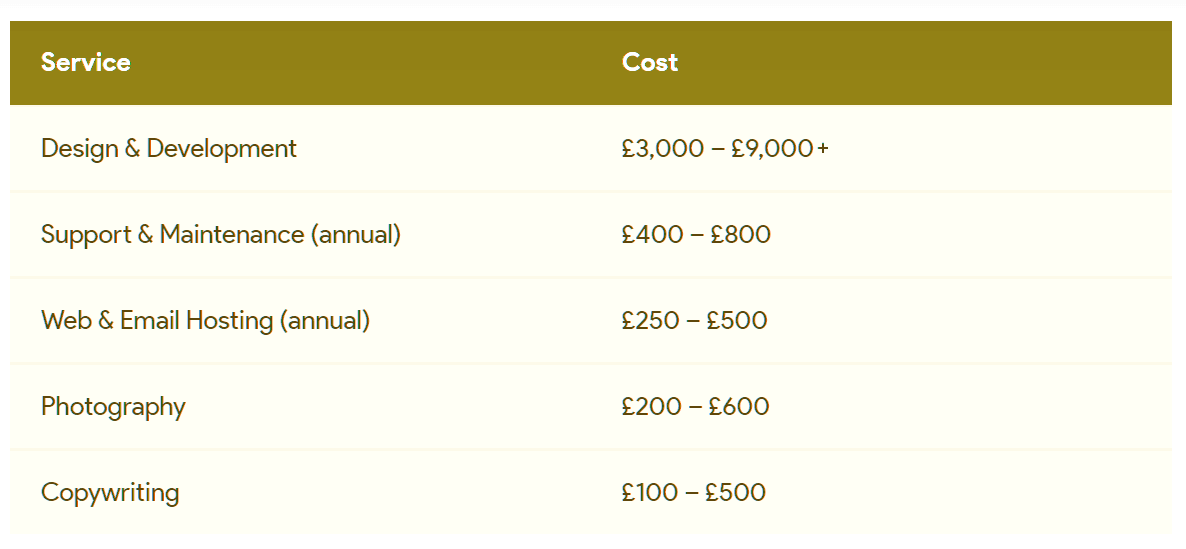 Specify your e-commerce needs
First and foremost, you should be thinking about the things that you absolutely must have to make your e-commerce website a success. You should then have a different list of things that would be nice to have, but you don't necessarily need on your e-commerce store.
A quick and easy way to do this is by firing up a text editor and outlining all these details. If you have a document ready, you can send it to the web design company and make it a lot easier for them to give you a quote.
Additional e-commerce website costs to keep in mind
Ecommerce website design is quite complicated, and there are many additional costs that you'll need to keep in mind. To make it easy, we have included these below, alongside how much you can expect to pay.
Web Hosting
The cost of web hosting for an e-commerce website will vary, depending on the total amount of traffic your website is expected to receive. Most hosting agencies charge a monthly or annual hosting fee that ranges from £120 to £425 per year.
If you own a large, established e-commerce site, or are expecting to use a lot of images, you may require a larger server that's exclusive to you. Dedicated hosting may cost £360 or more.
SSL Certificates
You'll need an SSL certificate if you want to make your website more secure and give your customers more confidence to make a purchase. An SSL certificate gives your website the green padlock icon and "https" prefix in the address bar, which is a big trust boost for clients.
An SSL certificate also helps to keep your information private between your website and the visitor, since it makes the information unreadable to everyone apart from the server you send the information to.
Updates, bug fixes and backups
You'll need to factor in around £35 to £400 every month for maintenance and security for the website, as most e-commerce platforms use plugins that keep getting updates and improvements. If you don't update your plugins, your e-commerce website is left vulnerable and at risk of getting hacked.
Some web design agencies offer maintenance packages that also include additional security fixes and off-site backups included in the price. Be sure to ask them before committing to a company for maintenance.
Search engine optimisation
SEO is one of the biggest things that should be considered and discussed in great detail at the very beginning. The first thing you need to ask your e-commerce website design company is how much they charge for SEO on an ongoing basis, as SEO is an area that's always changing. You might rank high on your keywords today, but rank low next week if you fail to adjust your SEO strategy to Google's regular algorithm updates. As such, you'll need to include ongoing SEO services in your initial budget.
Training
Running a website is hard especially if you are non-technical or unfamiliar with the e-commerce platform used by your design agency.
Not many people know how to manage their new e-commerce website properly. If you know you fall into this category, you will need some training and documentation to show you how to manage your website, edit content, add new products, and other day-to-day tasks.
You should expect your web design companies will charge you extra for this, so be sure to clarify beforehand.
Migrating your products and clients
If you already own an e-commerce website, you'll need to think about how you will move from the current website to your new e-commerce website. Being a critical task, it must be done smoothly so that there's minimal downtime and to make it as easy as possible for your clients.
Make sure that you are confident that the web design company you choose will be able to do this successfully so that you don't lose any past orders or customer details.
Improving business processes
After having your e-commerce site redesigned and redeveloped, this is the best time to look at some ways in which you streamline business processes. For instance, Do you use MailChimp for email marketing? Does your website use a CRM system? Incorporating these types of third-party platforms can help you to improve your business processes and cut down on administrative duties.
Design agencies should discuss this with you so that you can think about integrating tools that you already use with your site. There are plenty of free integrations out there, so you may find that you'll be saving a lot of time for no additional cost.
How long does it take?
Creating an e-commerce site from scratch or redesigning your existing one is a huge undertaking. Do not be fooled by smooth salespeople who say that your new website will be delivered in two weeks. A good website will take much longer to put together.
You'll need to ensure that you have realistic expectations and that your web design company is honest with you about when your website will be delivered. Realistically, it should take around 6 to 12 weeks depending on the complexity of the project and how bespoke your requirements are.
Tips for getting an accurate e-commerce website cost
1. Make sure you get all the functionality documents
You should always ensure that the web designer you hire to build your new e-commerce site produces a detailed document outlining all the features and functionality you require. This ensures that nothing is forgotten or left to chance; since it's all documented, you can check off each item from the list once the web developer does a task. These documents also ensure that you never pay extra for things that were never agreed upon initially.
2. Don't necessarily choose the cheapest option
If you go to several website design companies, you'll likely get a range of different prices. You may be tempted to pick the cheapest option immediately but this could easily end up blowing in your face.
On the other hand, just because a website designer is expensive does not automatically mean that they will deliver quality. Your decision should be based on the website designer's past results and whether or not you can work alongside them and make a success of the project.
Remember that this will be the beginning of a long-term partnership so you better make sure that you commit to terms that you will be happy with.
Do you need more free advice?
There are so many little things that can affect the cost of an e-commerce website. If you need more advice or have any questions, we are always ready to help whether you are interested in starting a brand new e-commerce website or redesigning your existing site. Visit our contact page and get in touch.